We all love to enhance our home landscaping with beautiful flowers, and especially roses. In the last few years Denver has been swarmed by the attack of the dreaded Japanese Beetle. It pretty much destroyed the great rose bush displays and other gorgeous flowers at the Denver Botanic Gardens. My wife's rose garden photo here is considerably less lucious than in years past due to these pests. The other photos show the Japanese Beetles chomping away at the beautiful roses. What do you do to combat these destructive pests?
My wife, Saundra and I did some researcch and then visited Nick's Garden Center in Aurora. The very helpful and knowledgeable attendants hooked us up with some potent insect sprays. Probably the best remedies you can get. We have had limited sucess. These beetles are strong and resilient and resist the best efforts we can put forth. They work as a team and attack the blossoms as soon as they open and can without any resistance can destroy a decent sized rose garden in a couple of days.
The gardeners at Nick's say "don't hit them, squeese them or otherwise leave their damaged carcases in the soil". Their smell will attract more of the beetles to the scene and make things a lot worse. Put them  in water, then in a plastic bag and throw them out. Who has had success with getting rid of these foul pests? Let us know here and and we're glad to hear any other gardening tips. Keep us in mind if you know anyone who needs to purchase or sell a Denver home.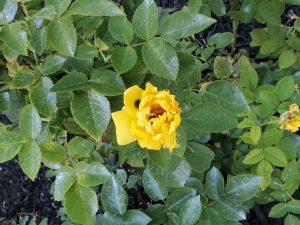 Robert McGuire  |  303-669-1246